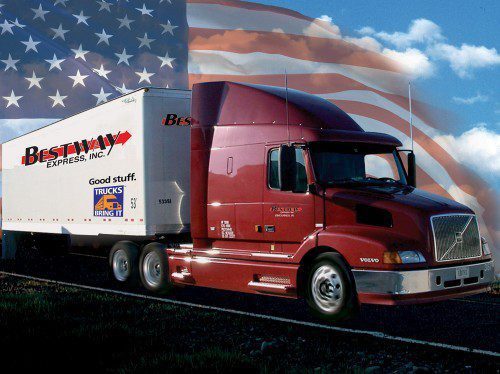 Bestway Express, Inc. General Freight Compensation Schedule
– Starting Pay: 32 cents per mile
– After 6 Months of Service: 32.5 cents per mile
– After 1 Year of Service: 33 cents per mile
– After 10 Years of Service: 35 cents per mile
– After 15 Years of Service: 35.5 cents per mile
– After 20 Years of Service: 36 cents per mile
– After 25 Years of Service: 37 cents per mile
*Drivers who hire in with 10 years of VERIFIABLE experience through DAC will automatically start at 35 cents per mile.
Bonuses
– Bestway's Safety and Operational Bonus can equal up to 2.5 cents per mile.  This bonus is calculated by the qualified cents per mile earned in the month then multiplied by the number of miles ran in that corresponding month.  The Safety and Operational Bonus is paid out monthly.
- Bestway's Fuel Bonus can equal up to an additional 2 cents per mile.  Like the Safety and Operations Bonus, the Fuel Bonus is calculated and paid out in an identical manner.