Family Owned & Operated for over 40 years!
We have been dedicated to safety and providing world-class service since 1981.
Since its founding in 1981, Bestway Express has prided itself in the ability to deliver world-class customer service. Headquartered in Vincennes, Indiana, Bestway is strategically positioned at the Crossroads of America. "We are a company dedicated to safety and service. Our focus is always on the big picture and the customer's bottom line," declares Eli McCormick, President and CEO of Bestway Express.
Bestway is a family owned and operated company that actively manages a modern fleet of 225 power units and 400 dry van trailers. State-of-the-art satellite tracking and communication systems, as well as electronic logging devices help ensure safety and timely service to our customers. Several value-added services are provided through our partners: Bestway Logistics, KMA, and C&S Transportation Services. Whatever the need, the Bestway team works hand in hand with customers to develop customized transportation plans that best suit their logistical needs.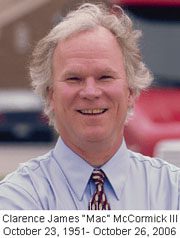 "Do all the good you can, by all the means you can, at all the times you can, for all the people you can, for as ever long as you can." A quote from John Wesley, founder of the Methodist church, this was Mac's credo and he carried a small written copy of it in his wallet.
It was a way of life for "Mac" as he lettered all four years in golf and basketball and captained the outstanding 1968 and 1969 basketball teams, bringing his Vincennes Lincoln High School to the state finals tournament. Mac was president of his junior high school class and member of the Fellowship of Christian Athletes.
As Mac went on to the University of Tennessee with a full scholarship based on his golf prowess, his credo was evident as he played in every event all four years and became team captain. He was named to the All Southeastern Conference Golf Team for two consecutive years, becoming one of 15 players selected nationally for NCAA competition. Later, at business-related golf outings, Mac disarmed the most confident opponent often showing up in his favorite old pair of black Converse high-tops, shooting par or close to it.
Mac's leadership skills were only budding at this early age and later, in 1981, he lead in co-founding Best Way Express Inc., and served as chairman and CEO as well as chairman and CEO of McCormick, Inc., Bomac Equipment Corporation, KMA Trucking, Best Way Logistics and Oubache Leasing . He was Vice President of Jamac Corporation.
At the forefront of the state and national trucking industry, McCormick held several positions: he was elected chairman of the Indiana Motor Truck Association in 1990, and the Truckload Carriers Association in 1998. He served as Chairman of the Labor & Human Resources Committee of the American Trucking Association, as well as the Political Action Committee.
A member of the executive committee of the ATA, thousands of truckers were gathered in Dallas to applaud Mac as he was to be announced as the Chairman of the American Trucking Association on October 31, 2006, just five days after his unfortunate accident, and just a few days after his 55th birthday.
Born into a proud Hoosier family, Mac worked diligently for his home state, serving as co-chairman of Indiana Business for Responsive Government, the political action committee of the State Chamber of Commerce as well as being a member of the State Chamber's Executive Committee. Mac was to be announced as Business Leader of the Year on November 8, 2006, at the State Chamber's annual banquet.
Mac lived and worked in his hometown, Vincennes, Indiana, and served on the Board of Trustees of Vincennes University and the Indiana Legal Foundation. He was also a member of the Vincennes University Foundation Board and was a former board member of the American National Bank.
He was a member of the Vincennes Masonic Lodge #1, Evansville Scottish Rite, and the Hadi Temple Shrine. A blithe spirit, an "original" and as someone described Mac, "a walking ray of sunshine," Mac enjoyed the adventure of life, every minute of it. Mac was most content when the wind was blowing thru his hair, on a golf course, or motorcycle; skiing, sailing or flying.