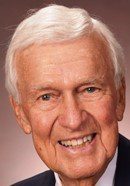 C. James (Jim) McCormick was a national trucking industry figure and a dynamic civic leader.
Clarence James (Jim) McCormick, 92, passed away at his long-time family home in Vincennes, IN. McCormick was a towering figure in the American trucking industry during the last half of the twentieth century. Rising from the fertile farmland of southwest Indiana, Jim ascended to prominence as a civic, political and industry leader.
Born on a Knox County farm on January 3, 1925 to Emma and Clarence J. McCormick (who served as Assistant Secretary of Agriculture during the Truman Administration), Jim attended Purcell Grade School and Decker High School where he graduated as valedictorian of the Class of 1942.
Enrolling at Purdue University, Jim joined the Alpha Gamma Rho fraternity, played on the freshman basketball team and was elected class president. When Purdue was converted to a wartime Naval training facility in 1943, Jim returned home to help his mother manage the family farm during his father's absence working for the Department of Agriculture in Washington.
As the war wound down, Jim seized on an enterprising opportunity that would set his career path for life. He scraped together his life's savings, purchased a used International Harvester 10-wheeler truck and started hauling fresh produce from Florida to markets in the midwest over the winter months. The shoestring venture was a success and by the time McCormick was 21, he owned a fleet of five tractor-trailer trucks.
After selling his produce-hauling business, in 1954 Jim purchased the Indianapolis and Southern Motor Express company, a common carrier with 100 employees and an equal number of vehicles. In 1967, I&S, as Jim's company was known, purchased McDaniel Freight Lines, a Crawfordsville, IN carrier. With the purchase of J.A. Grant Trucking two years later, I&S-McDaniel became a major regional competitor with 500 employees operating in five states.
In the mid-1970s, Jim accurately foresaw the coming federal deregulation of the trucking industry. He wisely sold out to Briggs Transportation of St. Paul, MN in 1977, just before the industry was deregulated and forever changed.
Concurrent to building his trucking empire, Jim was an active auto and truck dealer. In 1948, while still in the produce-hauling business, he founded McCormick Inc., an authorized seller of White Trucks. Over the ensuing 55 years, McCormick Inc., based in Vincennes, IN, served as a franchised dealer of International, Autocar, Freightliner and Volvo trucks; Kingham semi-trailers; Galion tank trailers and Packard automobiles. The company was awarded 1997 "Business of the Year" by the Knox County Chamber of Commerce.
Jim was instrumental in involving his children and grandchildren in the trucking business. In 1981, he acquired a small trucking company that became Bestway Express. Jim's sons, Pat and Mac obtained ownership positions and managed the business successfully. It has grown over the years and is today operated by Pat and three of Jim's grandsons: WiIl, Ry and Eli.
Other Interests
Jim's devotion to golf led him to become a major shareholder and eventual Board Chairman of Golf Hosts, Inc., which at the time owned and operated the Innisbrook Golf Resort in Palm Harbor, FL and the Tamarron Golf Resort in Durango, CO.
During his long and distinguished career, Jim served as Chairman of countless state and national trucking and transportation organizations including: American Trucking Associations, Indiana Motor Truck Association, Indiana Motor Rate and Tariff Bureau, Central States Rate and Tariff Bureau, Indiana Motor Carriers Labor Relations Association, and National Highway Users Federation.
A High Octane Life
Jim's affection for all things fast and powerful found him speeding across lands, sea and air in the most highly powered form of transportation available. His love of flying, with over 50 years and 6,500 hours of aircraft piloting, was evidenced by his ownership of more than a dozen aircraft and his role as Chairman of the Indiana Aeronautics Commission. He also served as Vice President of the Automotive Hall of Fame and enjoyed skippering his motor yachts in the Great Lakes and Atlantic Ocean with a full Sea Captain rating. Jim was a member of several cross-country motorcycle clubs. Aside from his family, there was little that Jim loved more than experiencing the beauty of our great nation astride one of his supercharged Boss Hoss bikes.
Financial and Educational Leader
Alongside his various transportation businesses, Jim also became active in the banking industry. These interests led to his active participation in numerous savings institutions and membership in banking agencies, such as: Director of Federal Home Loan Bank of Indianapolis; Federal Savings and Loan Association Advisory Council; Chairman and CEO of First Bancorp of Vincennes; and Director of German American Bancorp of Jasper, IN.
Jim's commitment to athletics and to his faith was manifested by his national chairmanship of the Fellowship of Christian Athletes. He was also a devout supporter of higher education having served for six years as Chairman of the Vincennes University Board of Trustees. In addition, he also served on the board of the University of Evansville and was a member of the Indiana Academy Board of Regents.
Public Service
A complete listing of Jim's countless civic activities is too long for inclusion, but featured service on the Indiana Bi-Centennial Commission and his stint as First Vice Chair of the Indiana Chamber of Commerce should be highlighted.
Jim firmly believed in the concept of "Pass It Forward" and this led to his active support and philanthropy directed towards a host of charities and worthwhile causes.
He was named a Vice President of the Indiana Society of Chicago; was an active member of YPO/WPO Indiana Gold; Quiet Birdman; Vincennes Masonic Lodge #1; Evansville Scottish Rite 33; Knights of Malta; and Hadi Temple Shrine.
An untiring community leader, Jim served as the founding board chairman of the Red Skelton Museum Foundation. He was president of the Vincennes Kiwanis Club as well as the Vincennes Country Club and was a long-time member in good standing of the Congressional Country Club in Washington D.C., the Evansville Country Club, the Innisbrook Golf Resort in Palm Harbor, FL; and the Tamarron Golf Resort in Durango, CO.
Recognition
Over the course of his lifetime, Jim was a frequent recipient of countless civic awards, professional honors and widespread acclaim. A small sampling of awards include:
Vincennes University Honorary Doctorate of Business Administration and the Walter A. Davis Memorial Citation; American Academy of Achievement Golden Plate; Automotive Hall of Fame Distinguished Service; Sagamore of the Wabash from four different Indiana governors; Kentucky Colonel; Indiana Transportation Man of the Year; Ernst and Young Entrepreneur of the Year; and WPO Legacy.
In 2005, Jim authored a well-received memoir book titled: "High Octane; A Rearview Mirror Retrospective (Big Britches Books, 544 pages)," chronicling the first eighty years of his extraordinary life.
Survivors and Arrangements
Survivors include Jim's wife, Marilyn; sons, Mike (Margy), Zionsville, IN; Pat (Lynn), Vincennes, IN; and daughter, Jane (Craig) Wissel, Vincennes, IN; step-daughters, Barbara Hanson, Carmel, IN; Julie (Gerry) Barclay, Olympia, WA; and Margy Hanson, Larkspur, CO. He is also survived by 13 loving grand-children and 25 loving great-grandchildren; as well as two brothers, Don (Karen), Vincennes, IN; Ed (Lana), Carrollton, TX; and a sister, Lorene Burkhart, Carmel, IN.
Jim was preceded in death by his first wife of 50 years and two months, Bettye J.; his son, C.J. III (Mac), who died on October 26, 2006 at the age of 55, and his grandson, Brooks R. McCormick.
During his later years, Jim and Marilyn divided their time between homes in Vincennes, IN and Palm Harbor, FL.
Jim was a life-long Methodist and was a regular attendee at the Community United Methodist church in Vincennes, IN and the Palm Harbor United Methodist Church in Palm Harbor, FL.
Visitation will be on Thursday, June 1 from 1 P.M. to 8 P.M. at the McCormick Pavilion of Community United Methodist Church, 1548 S. Hart Street, Vincennes, IN and from 10 A.M. to 10:45 A.M. in the church sanctuary on Friday, June 2.
The Celebration of Life will begin at 11 A.M. in the church sanctuary on Friday, June 2.
In lieu of flowers, memorial contributions may be made to:
The Community United Methodist Church Endowment Fund
http://www.cumcvincennes.org/contact/
The Red Skelton Museum Foundation, http://www.redskeltonmuseum.org
The Mac McCormick Vincennes University Memorial Scholarship Fund
http://alumni.vinu.edu/s/1390/start.aspx
The KCARC 1972 Project. http://knoxcountyarc.com
Funeral Arrangements by Goodwin Funeral Home, Vincennes, IN.