Welcome to Wellness for Life!
Our team would like to send a warm welcome to you and your family as we prepare to become your new primary health and wellness provider!  The Tommy Wolfe Wellness Center is provided at no extra cost to Bestway employees in the Vincennes, IN area who are on our insurance plan.
Since 2008, Wellness for Life has been providing private employee health services for government organizations, businesses and school corporations. We specialize in offering patients like you convenient, high-quality, primary care and wellness services. Our mission is to deliver our patients the best possible care and help you and your family lead healthier lives.
Currently, we operate twenty-one, employee health service centers throughout Indiana and Virginia and provide our services to over 60 clients. Throughout our time of providing these services, we have retained every contract and even transitioned many other employee health centers who had a different management vendor.
With our experience in transitioning previous employee health centers, we are excited and confident in our efforts to transition your employee health center over the next several weeks. With this, we will provide you with the necessary steps needed for a seamless and successful transition. If you do have questions, please feel free to reach out to our transition team and we will be happy to answer anything you would like to know.
Our services and benefits are brought to you by your employer. In return, they hope to curb their healthcare inflation, so it can continue to offer you generous health benefits. To be successful, your participation is necessary. Your center is only effective if you choose to use its services. We promise you the most convenient and hassle-free experience-unmatched by any other healthcare provider.
Services Offered:
You, along with your spouse and dependents that are on your insurance plan, may use the following services and many more, as often as you'd like and all at no cost to you!
Acute Care
– i.e. strep throat, flu, general symptoms
Family Medicine
– i.e. physicals, care management
Evaluation and Treatment of Minor and Non-Emergency Issues
– i.e. minor cuts, bruises, sprains
On Location Generic Medication Dispensing
Wellness and Nutritional Services
– i.e. body composition testing and nutritional advice
Laboratory Work
– We are equipped to handle most of your lab work needs
Help Managing Chronic Conditions
After-Hours Provider Hotline:
We provide our patients with an after-hours hotline for any care needs when your clinic is closed. This benefit is also at no cost to you and helps us decrease the use of Urgent Care Facilities and Emergency Room visits.
---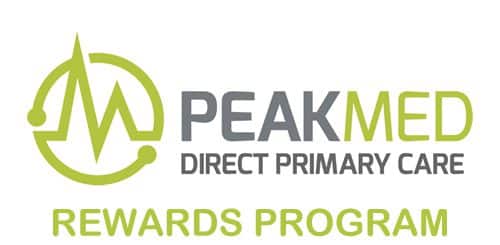 How does it work?
Refer your friends and family.
Email sales@peakmed.com or call 844-333-0802
When they enroll and are members for 30 days, you receive a $ 25.00 Visa Gift Card!
To qualify we must have your full name and phone number and the referees phone number, email and home address or the referee can call us directly.
There is no limit! You can help us grow! Refer your friends and family today!
Earn a $25.00 Visa Gift Card for each referral that enrolls!
---
May is Mental Health Month:
Don't forget the benefits that are available to you!  There is a 3 session plan available at no cost!